Wood waste recycling enabled by Bin Trim
---
With financial assistance from a NSW EPA Bin Trim rebate, co-owned businesses Pallet Collars Australia (PCA) and Recycling Technologies Group (RTG) have been able to implement an innovative and profitable wood waste solution for themselves and a neighbouring sawmill.
Based in Eden, Bega Valley, PCA manufactures and supplies thousands of wooden packaging solutions every year. The production of this quantity of packaging creates a large amount of wood waste — 2.5 tonnes per month on average. PCA and RTG also knew that wood waste was being burnt by a neighbouring sawmill as a means of disposal.
As a business that offers recycling infrastructure solutions for manufacturers, RTG understood the opportunities of creating a higher value for that wood waste — in this case, recovering wood waste, such as sawdust, shavings and wood offcuts, and creating heater pellets for domestic pellet heaters. By using recovered wood waste, there is the additional environmental benefit of not using raw forest materials.
Pellet heaters look similar to other domestic combustion heaters. However, rather than burning logs of wood, they create heat by burning small wood pellets. Wood pellets burn efficiently because of their density and dryness.
PCA and RTG contacted the NSW EPA Bin Trim program to see if it could help cover the cost of purchasing the required equipment to transform wood waste into heater pellets. The program enables eligible small and medium-sized businesses to access a free waste assessment and a rebate from $1000 up to $50,000 to help with purchasing recycling equipment.
PCA and RTG were given a rebate of $12,904, lowering their capital investment cost to purchase the new recycling equipment and therefore increasing the financial viability of the enterprise. The equipment enables PCA and RTG to take their wood waste, along with large quantities of the wood waste from the neighbouring sawmill, and turn it into high-energy, 6 x 30 mm pellets for household heating.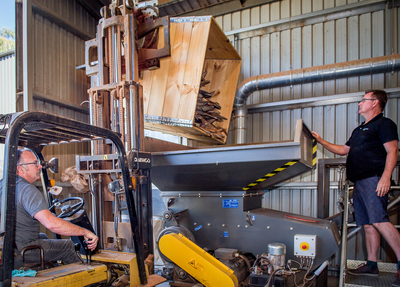 Wayne Carracher and Tony Esplin from Recycling Technologies Group.
PCA and RTG are now recovering 90% of their wood waste, reducing their waste disposal costs significantly. They are also recovering up to 3 tonnes a week of the neighbouring sawmill wood waste, greatly reducing the amount of wood that the mill needs to burn as a means of disposal. In total, PCA and RTG are now recovering approximately 180 tonnes of wood waste per year.
"It's part of our business to make waste into resources, so we knew the potential of re-using the large amount of wood waste in this way to produce a really useful product," said Kari Esplin, director of PCA and RTG.
"What the Bin Trim Rebates Program does is it takes a solution that will work and will provide a return, and it adds a level of security to its future."
Furthermore, the project has enabled PCA and RTG to diversify their business and demonstrate a re-use solution that can be replicated in almost any facility that has a similar wood waste problem in Australia. RTG has also used its own wood waste recovery model to sell pellet production plants to other businesses with similar wood waste problems.
"Manufacturers commonly consider waste as waste, but actually it can be a valuable resource," said Tony Esplin, owner of PCA and RTG. "Businesses just need to know how to use that resource."
Top image: Kari Esplin, Wayne Carracher and Tony Esplin from Recycling Technologies Group.
---