Unlocking the power of reporting: businesses and the SDGs
---
From the inception of the Sustainable Development Goals (SDGs) through the UN's 2030 Agenda, Global Reporting Initiative (GRI) has championed the participation of the private sector in measuring and achieving progress. And a huge incentive for companies to get involved is improving their ways of working by embracing sustainable business practices.
Yet is this happening on the ground — and if so, how? What role does private sector reporting have on progress? Does an understanding of a company's contributions to the SDGs lead to the development of new business models and spur public and private sector innovation and collaboration?
Seeking to unlock the answers to questions like these has led GRI to team up with global power company Enel. Through international engagement, the project aims to establish the state of play on how reporting and partnerships can drive corporate change towards accomplishing the SDGs and lead to ideas for new collaborations. In the second phase of the project these ideas will be tested on the ground in four different countries.
Collaborate to inform
GRI and Enel launched a series of online collaboration forums, hosted by insights and strategy consultancy GlobeScan. The first forum, across two sessions, took place on 8 October, with a second forum set for 14 November.
The October forum featured input from a 12-strong expert panel, with 394 participants joining from 56 countries, including those from companies, governments, NGOs and other stakeholders. In total, 845 comments and ideas were put forward, demonstrating the extensive engagement and widespread interest in the topic.
What was discussed?
Forum participants overwhelmingly agreed that corporate transparency and accountability plays a key role in driving impactful change on the 2030 Agenda. When asked why reporting on SDG progress is important, the most common answer (given by 44% of respondents in a poll) was committing the business to taking action.
GRI has published a report reviewing discussions at the first forum — observations of the main themes are detailed below.
Benefits of disclosure
The following benefits were highlighted regarding the use of reporting frameworks such as the GRI Standards:
Kick-starting companies' understanding of their SDG contribution.
Global guidance on a common approach to achieve the 2030 Agenda.
Identify gaps and opportunities to improve, collaborate or gain business advantage.
Increase data comparability with other companies.
Link SDG performance to business performance.
 
One of the biggest barriers faced by businesses in effectively reporting is complexity. Asked what the greatest reporting challenge was, half of respondents highlighted complexity in disclosing performance. So, this indicates there is still a need to provide support and promote the tools already available.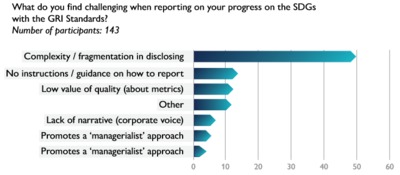 To view a larger image, click here.
What's changing?
For some organisations, SDG reporting has led to a shift in corporate action around new business models. Businesses aligned to specific SDG themes (eg, businesses that have a significant impact on climate change) or specific sectors (eg, the fashion sector) are more likely to consider alternative business models.
When it comes to collaboration, certain sectors have made more progress than others as a result of SDG reporting. The food, plastics and finance industries were all highlighted.
Yet, what's surprising and a cause for concern is that relatively few examples were put forward by participants of SDG reporting leading to partnerships and new ways of working between private sector actors alone.
Instead, what can be regarded as currently the most productive examples of collaboration seem to be those between companies, civil society and NGOs or governments. An example is a project between GRI, UNDP and the Colombian Government: the companies came together to use data reported using the GRI Standards to understand private sector contributions to Colombia's SDG targets and assess actions needed to meet national SDG objectives.
What still needs to be done?
Participants began to explore what needs to be done to strengthen the role of reporting — and corporate transparency — to accelerate SDG action. Ideas included:
Increasing awareness, education and support for businesses around reporting standards, record management, materiality, key performance indicators (KPIs) and target setting.
Promoting reporting as a learning tool to drive best practice across sectors.
Providing different types of businesses with more tailored support.
Next steps
In some ways we have more questions than we started out with. But that's okay! The engagement and buy-in from many key stakeholders was palpable. The next forum on 14 November will build on these discussions as we look to develop a clear vision for what we need to do next.
This forum will look at how we strengthen the role of future SDG reporting, to enhance sustainable business practices and actions, stimulating new approaches that will ultimately drive corporate progress for the SDGs.
The outcome of both forums will inform the plans from GRI and Enel to develop solutions and continue the dialogue around the world through regional events during 2020.
*Peter Paul van de Wijs is Chief External Affairs Officer at GRI.
Image credit: ©iStockphoto.com/Dušan Janković
---