Making wine with a gentle touch on the environment
---
Angove Organic is a 134-year-old, multi-generational family wine company based in McLaren Vale, South Australia, home to sustainable winegrowing and world-class wines. The company has a longstanding commitment to certified organic viticulture, once a niche industry that has now entered the mainstream as consumer demand grows for certified organic products in Australia.
Managing Director Richard Angove talks to us about the innovative sustainable farming and production techniques that Angove Organic uses to manage its carbon footprint and focus on sustainability for today and into the future.
What methods have you implemented to create a more sustainable production system?
At Angove Organic we have had a long-standing commitment to Certified Organic viticulture, which means farming in a natural way without relying on conventional agricultural methods that use synthetic fertilisers and sprays. We pair modern technology like the use of drones, robots and aerial imaging from satellites with organic farming practices, which gives our farmers a better understanding of when to tend to their vines. Technology allows us to be more precise with the use of fertiliser, water and other resources, helping us avoid waste and maintain a sustainable approach. We can also time picking of the grapes to absolute precision with the use of technology and our farming insights.
How has modern technology like the use of drones changed the way you farm?
Because organic farming is all about not adding elements that are synthetic, modern technology like drones and aerial imaging work hand in hand with our farming practices and allow a more sophisticated analysis of what the plants need. In the past, farmers would be adding fertiliser and hoping for the best, whereas now we can look at the requirements of our fertilisation plan through aerial imaging and adjust our approach accordingly. By embracing technology from the modern world, our inputs are better placed, better applied and use fewer diesel tractor inputs — all these things allow us to produce a purer product.
What about water use at the vineyard: what sustainable practices have been put in place to conserve water?
Using technology like drones also helps to conserve water because we can take photos of a vineyard patch and work out if there are any water leakages or irrigation issues which can be quickly resolved. You can't see that when you're driving along the road but with drones you can. We have also converted to drip irrigation in all vineyards, which reduces water consumption by 25%. Winery wastewater is also re-used in a woodlot planted to grow native species. This woodlot provides a carbon sink for the winery activities, rehabilitates a salt scald and provides a natural habitat for native wildlife.
Wine can have quite a high carbon footprint; how do you offset your energy consumption?
We use several innovations in our organic viticulture to reduce energy consumption, CO2 emissions and landfill. These include upgrading irrigation pumps with variable speed drives to reduce power consumption by 25%, installing a 250 kW solar system which covers 50% of power usage, insulating tanks and barrel stores to greatly reduce heat loss and energy use, as well as investing in centrifuge and crossflow filtration technology to clarify wine, which has eliminated over 150 tonnes of landfill waste.
Certified organic viticulture is about more than just creating the perfect vine conditions, we consider our impact on the environment every step of the way. We believe that our certified organic wine is made with the gentlest touch to both produce the best wine and remain sustainable both for today and into the future.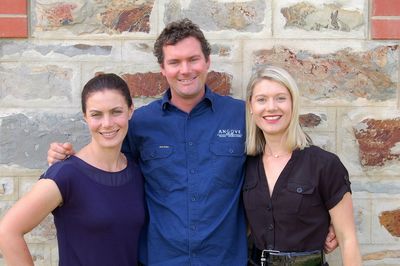 Angove family.
---