BMS maintenance that targets energy efficiency
---
BMS maintenance has been performed for years and has been a critical part of a building's operation in terms of tenant comfort, equipment longevity and energy efficiency. For the last 20 years maintaining electronic controlled HVAC systems has been much the same, but in the age of 'big data' how has the industry shifted to benefit?
Traditional maintenance typically involved arriving to site, checking the system operation by looking at the graphical headend and maybe manually manipulating the system to test control strategies. All too often this is only done on a single day a month (or quarterly) and only problems that are apparent on the day are rectified. The introduction of automated fault detection and diagnostic systems means the mundane task of staring at a screen all day wasting time looking for problems is a thing of the past. Automated fault detection systems will functionally test equipment throughout its normal operation and identify issues as they occur, this allows the maintenance team to fix problems instead of looking for them.
Preventive maintenance models are the industry norm and still dominate the market. These models see maintenance staff perform time-intensive tasks that rarely improve the building's comfort or performance. These tasks involve the interrogation of graphics and trend logs, which becomes repetitive and often issues are missed. And typically only a couple of days' worth of data is checked at most. Once any issues have been identified it is only then the equipment is physically checked, and any issues rectified. Because of this time-consuming process, maintenance procedures have adapted to only check equipment operation once a year and only certain pieces of equipment every month. This means that problems could potentially go unchecked until month 12 of the contract.
Data-driven maintenance is relatively new to the industry and has become more prevalent with the introduction of analytical systems. By using analytics to functionally check equipment and raise issues as they occur, maintenance time on-site can be focused to fixing the worst performing items of equipment. This removes the need for maintenance time to be used checking the BMS graphics for control issues and allows more time to rectify problems thus reducing tenant comfort issues and costly faults. A data-driven model would now see an allocation of time on-site to check poor performing equipment and perform some physical checks. For example, a time allocation to check the 'X' worst performing VAVs, AHUs, calibrate all sensors and physically check damper actuators. On-site checks still need to be performed to visually verify everything is ok.
A group of BMS technicians were interviewed and asked to list out the typical checks that need to be performed on each item of equipment and the time to do so. The following tables outline these tasks and time to perform:
(Note: Ticks indicate tasks that need to be performed.)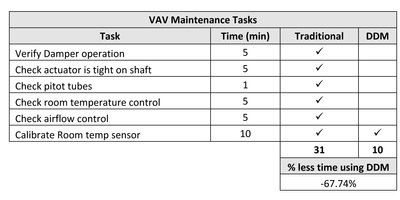 It was found on average a reduction of 45% could be achieved by using analytics to drive maintenance, this time saving is then reallocated to physically checking and rectifying issues. There are items that still need to be physically checked as per the traditional model; however, most functional checks can be performed via the analytics system.
By using data-driven maintenance the plant is operating as it's been designed to and all systems are working in sync, which results in lower energy consumption and better tenant comfort conditions. The below table shows a rolling energy consumption pre- and post- data-driven maintenance model.
As can be seen, the energy consumption dropped around 15% just by targeting the worst performing equipment through a data-driven maintenance model. This is a common theme throughout buildings that have moved away from the traditional maintenance model and more towards a data-driven model.
Image credit: ©stock.adobe.com/au/auremar
---