reDirecting material from landfill
---
CDE has installed a waste recycling plant for reDirect Recycling at its site in Wetherill Park, in a bid to divert waste from landfill and to recover valuable resources.
reDirect Recycling provides resource recovery management, creating an industrial ecology which diverts waste from landfill to return resources into the economy. It focuses on providing a disposal and recycling solution for construction, demolition and excavation (C,D&E) waste for both dry and wet materials.
CDE worked closely alongside reDirect Recycling to design and develop a plant that could handle both wet and dry materials to recover valuable resources and aid in landfill diversion.
The solution
CDE delivered a C,D&E waste recycling solution, as well as integrating four HYDRO:Tip units to process hydro-excavated muds.
The plant, which incorporates an EvoWash sand wash plant, AquaCycle A200 thickener with water tank, centrifuge decanter, R-Series Primary Scalping Screen, Infinity dewatering screens and AggMax modular logwasher operates at a rate of 200 tph.
The solution has two feed points, the R-Series and the four HYDRO:TIP systems. At the first feed point, solid waste material is loaded directly into the R2500 with a shovel, while four trucks can simultaneously tip wet waste directly into the HYDRO:TIP bays at the second feed point.
The HYDRO:TIP is designed to handle solid-liquid waste from hydro excavation tankers and street sweepers. Its station ensures a safe platform to unload wet waste quickly and efficiently, without the need for an additional operator to manually dredge and dewater material prior to feeding.
R2500 screens the heavily clay-bound feed and removes any oversize material, protecting downstream processes while also providing sufficient energy to break up and homogenise the feed. The material is then transferred from the R2500 to the AggMax on a conveyor where the overband magnet removes ferrous metal contamination.
At the AggMax, the upward flow classification function floats off organics onto the integrated trash screen for dewatering and stockpiling. The paddles of the RotoMax RX160 encourage aggregate on aggregate attrition scrubbing for breaking down clay conglomerates and liberating clean aggregate. The Infinity H2-60 screens and dewaters three aggregate products by size and any trace sand washed off is then processed in the EvoWash wash plant to recover a 0–5 mm sand product.
Once the cyclone overflow (<75 µm clay and silts) has been treated and clarified in the AquaCycle, recyclable water overflows across the weirs and onto a static screen to remove lightweight contamination. The thickened sludge is conditioned and discharged from the AquaCycle clarifier to the sludge buffer tank and is then pumped to the centrifuge decanter for final dewatering. The recycled water from the AquaCycle and centrifuge is sent to the water tanks for recycling around the system.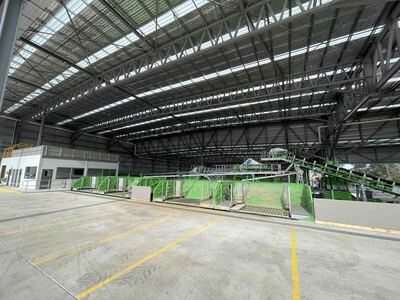 The result
The technology is allowing reDirect Recycling to produce a sand product (0–5 mm) and three washed aggregates (5–20, 20–40 and 40–80 mm), as well as dewatered organics, clays and silts, to be repurposed in the construction market.
CDE business development manager for Australasia Riccardo Wong said: "Both CDE and reDirect Recycling are passionate about sustainability and reducing waste going to landfill, so we used both of our expertise to create a solution which recovers and reuses valuable resources to be repurposed in the construction market.
"Plants like this are the future of the industry in their ability to minimise waste and maximise value."
---