Improving the efficiency of CO2 capture
---
CSIRO, AGL Energy, Brown Coal Innovation Australia and Japan's IHI Corporation are partnering on a two-year research program to improve efficiency of carbon dioxide (CO2) capture.
While CO2 is already being captured at large scale around the world, cost and efficiency challenges remain an impediment to wide-scale commercial implementation. The research program is targeting a 40% reduction in energy use of current capture processes in order to overcome these challenges.
The PICA post-combustion capture research project will evaluate innovative processes using gases drawn from AGL Loy Yang brown coal-fired power station in south-eastern Victoria. Throughout the two-year program, researchers will examine the energy efficiency of CO2 capture configurations, the effectiveness of two new solvents into which CO2 will be absorbed, and measure the total amount of CO2 removed.
The PICA research plant was built by IHI in Japan and transported to the Latrobe Valley. There, the 21 m-high research plant will operate around the clock, capturing 150 to 200 tonnes of CO2 each year.
CSIRO Energy Director Dr Peter Mayfield said CSIRO is excited to embark on the PICA research journey as part of its support of mitigation research efforts to reduce greenhouse gas emissions and ensure Australia's energy security.
"CO2 capture can be applied to both energy generation and industrial processes," Dr Mayfield said.
"This research will complement our research in CO2 storage, and it's a great example of globally coordinated R&D on emissions management."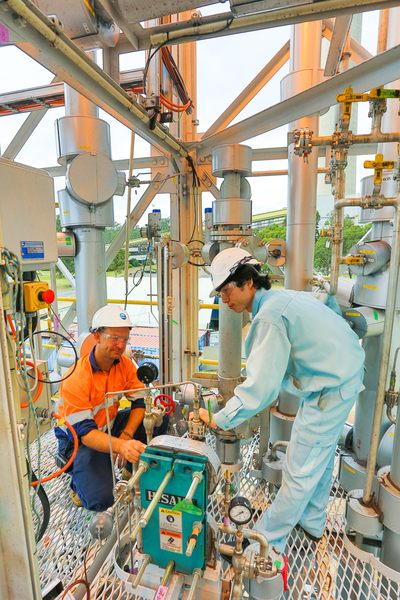 CSIRO's Aaron Cottrell and IHI Corporation's Jun Arakawa work on the PICA post-combustion capture project.
Representatives of the other partners added that the PICA project will help contribute to the roll-out of CCS for power generation and the manufacturing sector, with CO2 capture particularly important for the continued operation of coal-fired power plants.
Originally published here.