Vertical renewables in Melbourne
---
Beulah's Paragon tower in Melbourne's CBD will be home to one of the largest vertical solar panel systems in Australia.
b.energy was appointed to design, construct, operate and maintain the 128 panels installed on the core walls of the tower, which are set to outperform similar developments in terms of emissions reduction, cost reduction and green energy sustainability.
The 42 kW system spanning 158 m2 is vertically installed on the core walls of the tower and comprises 128 Trina Solar HoneyBlack 325 W monocrystalline modules to generate c30 MWh. It was designed to make efficient use of the latent building lift core and fluid dampening tanks options amidst constrained rooftop building services space.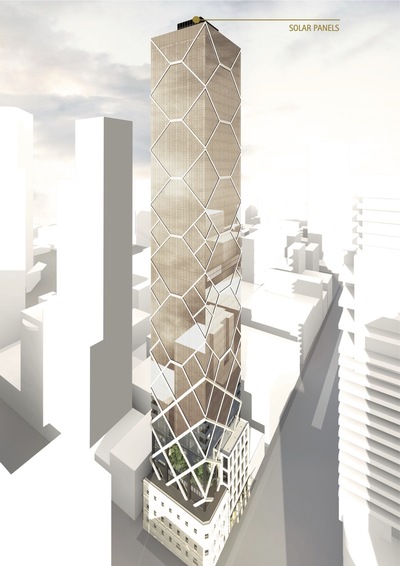 Beulah Executive Director Adelene Teh said this addition to the luxury tower is important to ensure that Beulah continues its journey towards sustainable developments with reduced carbon footprints.
"We are so proud to offer Melburnians a remarkable new tower with a landscape of social spaces that introduce  sophisticated design to Melbourne living and entertainment," said Teh.
"Paragon offers sophisticated living that residents can feel good about, with the implementation of a stellar solar system that means their lifestyle will have a low impact on the environment."
Solar panels under construction.
The utilisation of the tower's vacant space is not only innovative but is also an attractive value-add that differentiates the tower's embedded renewables offering which, in turn, is an enticing cost saving to prospective residents, the OC and the developer.
b.energy Chairman James Dunstan said, "The combination of a painted lift core and stylish HoneyBlack modules have not only markedly complemented the building design aesthetics, but will assist in reducing common property electricity costs.
"Whilst electricity production would generally be closer to c56 MWh for flat or degree-mounted systems, generating c30 MWh far exceeds the renewables that could otherwise be achieved on the constrained rooftop," he said.
Due to be home to 227 residences, Paragon is scheduled for completion within the next month.
---